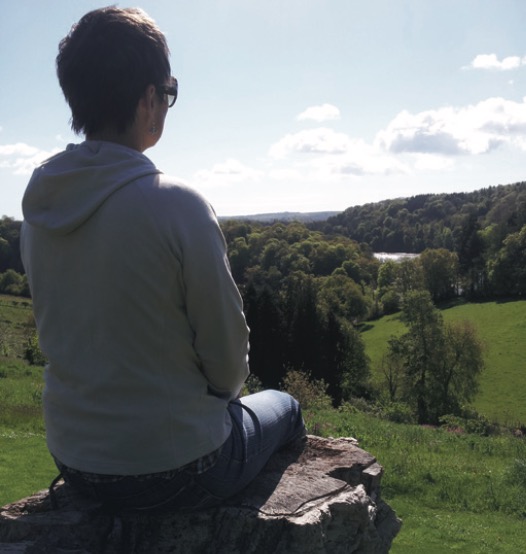 Try mindfulness this Autumn
September sees a full programme of mindfulness courses and taster sessions on offer, to help people understand and explore the field of meditation. The Sharpham Trust has 30 years experience in this field and are experts at making that space in your mind. From two-hour taster sessions and 1-day and 8-week courses, to a full programme of retreats across three venues, there are plenty of pathways into mindfulness for everyday life. Sharpham's mindfulness teachers are drawn from a pool of experienced and qualified leaders, offering support and wisdom for participants. Taster sessions are happening in September at Sharpham and also in Totnes and Torquay, while 1-day Introduction courses take place at Sharpham in September, October and November. 8-week courses – the accredited mindfulness course based on mindfulness founder Jon Kabat-Zinn's findings – begin at Sharpham and Totnes in September and in Torquay in October.
Wild writing in the Great Outdoors – a woodland retreat in September
For those that have always wanted to explore wild creative writing. This is a new retreat in Sharpham's tranquil woodland encouraging you to take an inner journey in the great outdoors. The unique 3-night retreat offers an opportunity to step out of everyday life and into a place of reflection through creative writing, meditation and nature connection. The retreat is led by Brigit- Anna McNeill and Caspar Walsh, and begins on Thursday September 14.
Women's woodland retreat
The women-only Woodland Retreat offers the opportunity to experience a combination of mindfulness skills and connection to the natural world, with time away from the frantic pace of everyday life. Retreatants experience a spacious and sensuous immersion in mindfulness and the outstanding natural beauty of the Sharpham Estate. Accommodation is in fully-furnished, cosy bell tents pitched in Sharpham's woodland, close to the River Dart. The retreat begins on Thursday 7 September.
Wading into nature
Bird expert Mike Langman explains the ways of the estuary waders, guiding a special bird walk on the River Dart at Sharpham on Friday August 25, from 6pm to 8pm, enlightening us about the birds on the river. Discover some of the estuary's more secretive birds in the reed beds like Reed and Sedge Warbler, resident Cetti's Warbler or Reed Bunting.
Bat, Moth & Stargazing
See bats, moths and stars (hopefully) on this very special event on Friday September 22 and awaken your senses to nature at night-time. The Sharpham Estate is one of the few places in the UK and Europe where the Greater Horseshoe Bat can be found. The Trust is partnering with the Devon Greater Horseshoe Bat Project and the Devon Wildlife Trust on this event. Find out more about this endangered mammal, try bat detecting and discover these elusive mammals. You'll also tour moth-traps used to gently capture insects, and witness closeup the wealth of UK moths that come out at night. This event also includes (clouds permitting) a tour of the night-sky, thanks to Dartmoor Skies.
Retreats at Sharpham
As well as the Woodland Retreats, The Sharpham Trust offers retreats in Sharpham House – a Grade 1-listed Georgian manor and at the Barn Retreat Centre. Retreats in Sharpham House tend to be more secular, whilst the Barn Retreat Centre 6-night retreats are in the Buddhist tradition.
More information and how to book courses, retreats and events visit
www.sharphamtrust.org or call 01803 732542
or email bookings@sharphamtrust.org