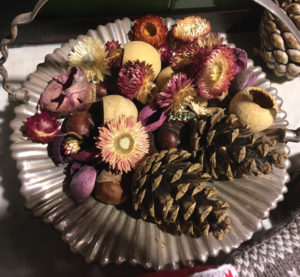 Tips for reducing waste at Christmas from Devon Community Recycling Network.
CHRISTMAS is such a great opportunity to encourage sharing and there are many ways to reduce your impact on Earth's resources too…Devon Community Recycling Network Coordinator BEN BRYANT gives his tips for reducing waste over Christmas, a time when the average UK household generates at least 25% more rubbish.
CHRISTMAS is a time to get together with friends and family to relax, offering some quality time and vital respite from the pace of modern life. It's not presents but your presence that counts; human kindness and the sharing out of love in big helpings. By just being thoughtful to others, you're almost guaranteed a lovely Christmas. Speak with a kind heart and bring the love, laughs and good local food. Spare a thought for your elderly neighbours and help those less fortunate than yourselves. Remember the best option is to simply not to create the extra waste and to REDUCE; preventing waste from the outset is champion. Think Zero Waste and consider a New Year's resolution to join the Zero Waste Journey (see facebook group) or take part in the plastic free initiative. You'll becoming part of a rapidly growing movement of people who want to do more than just recycle.
WRAPPING
Buy wrapping paper made with 100% recycled material. Avoid shiny foil or plasticized wrapping. If paper tears easily and the paper fibres are visible it's generally good for recycling. Plain brown paper makes nice traditional wrapping, personalised with a ribbon. The paper can reused as a liner for your food waste caddy. Stick to tradition and put presents inside a Christmas stocking that can be personalised and reused each year. Save decent pieces of wrapping paper for next year. Use ribbon or string rather than tape it's easier to salvage materials for reuse. Remove tape, tags, bows and ribbons from recycling, as these can contaminate the material.
DECORATIONS
Can you make your own Christmas decorations, Christmas cards out of scrap resources, or even your own Christmas crackers? For more info and inspiration contact your local Scrapstore; Plymouth, Torbay, Holsworthy and Exeter all have one; they often run Christmas decoration making workshops to get you into the spirit. Visit www.dcrn.org.uk/ projects or email info@ dcrn.org.uk to locate local community recycling projects in your area.
CARDS
Try to buy Christmas cards and other paper based products with high recycled content or better still try sending ecards. Think small with Christmas cards as you'll be saving big on cardboard. A nice idea is to save and send the same card to the same person each year with previous messages included as reminders of years gone by, things personalised are all the better. Reuse images and salvage what you can for Christmas tags the next year and the written half for shopping lists. Recycle any Christmas cards that have been repurposed or reused already via the kerbside scheme, or check to see if a local retailer accepts cards for recycling.
TRADITIONAL
Japanese wrapping cloth or gift-wrapping all sorts of presents in a manner. Imagine origami using fabrics. simple or multifunctional pieces of cloth, the more beautiful the better to be passed on and reused again and again ideally for more furoshiki. Online demonstrations of the many different folds can be found on youtube or check it out on Wikipedia. Try Furoshiki
FOOD
Plan food menus in advance and stick to your shopping list (listen up men). Remember to store products carefully to keep food fresh and freeze what you can. www. lovefoodhatewaste.com provides great recipes for using Christmas leftovers and gives excellent guidance on planning Christmas shopping, freezing and reusing leftovers plus saving energy. Birds love Christmas leftovers too; any scraps of fruit cake and mince pies will go down a treat providing energy and nutrients to help them through the cold winter months. Be sure to Home Compost all those vegetable peelings and all uncooked food (except meat). For tips on home composting visit Devon Community Composting network www.dccn.org.uk
SHOPPING
Planning is an essential, make a list of what you need and what you've bought. Very often the joy is in the giving not the receiving so it's easy to over buy, especially when it comes to spoiling the little ones. Support your local town market and independent stores and keep your money within the local economy. Shopping with independents. Buy seasonal and locally sourced goods to reduce food miles and carbon footprint. Take your reusable shopping bags and buy loose to reduce packaging.
PRESENTS
Look out for presents made from recycled or sustainable materials. You don't have to buy new stuff for people, consider making presents as that personal touch is far more meaningful. Make a present pact between friends or family – have a maximum value, locally sourced only, buy only from charity shops, or only buy second hand items. Experiences make brilliant Christmas presents. Arrange activities and gettogethers, purchase event tickets, vouchers for therapies, subscriptions, support a crowd fund, adopt a cause, or buy memberships. Reuse an item you no longer use as a present to someone else who will like it and use it. Focus on spending quality time together, that's the best gift.